Werke
[Matt Frantz Presents... The Last Signal]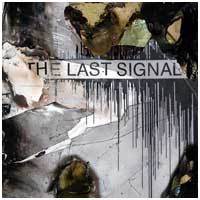 [Covergrafik: Matt Frantz]

released by Independent Opposition - #MFLS06
2004
37 Tracks
total playing time: 55:58
The Last Signal is an international compilation of sonic explorations centered around creative interpretations of what the end of the world might sound like. The CD features more than 35 tracks from creative musicians and sound designers in Australia, Canada, France, Germany, Greece, Italy, the United Kingdom, and the United States. This unique experiment, compiled and edited by exceptional artist Matt Frantz, blurs the boundaries of music and noise with a variety of conceptual and stylistic approaches.
"Caution: high volume playback may induce panic in mammals."

[Tracks]
01. Nectarphonic: "Will I" (Last Signal Abrupt End edit)
02. Combination No. 10: "Gutbrain Sound" (Condensed edit)
03. Panayiotis Kokoras: "Red Tail"
04. Ole Peterso: "Opastion Klagavurn Phen Prosno"
05. Tat-Gun: "2 Minutes of Faith"
06. Horrendous: "End Us"
07. Cousin Silas: "Untitled Assemblage of Nine Ambient Soundscapes"
08. Tin R.P.: "Untitled"
09. Giuseppe Rapisarda: "Countdown. Three, Two, One, Zero."
10. Satyr Oz: "Shattered Cradle Playground/The Last Swirlings"
11. Brian Schorn: "Down Arming"
12. Cameron Sears: "Apocalypse Bells"
13. Mystified (Thomas Park): "End of the World"
14. Aaron Butler: "Original Soundtrack to the End of the World" (Dark Audio Dub Mix)
15. brekekekexkoaxkoax: "ma'vet o'lam (Asiyah)"
16. Moon: "Untitled"
17. Matt Frantz: "Oversaturated"
18. Bollwerk 81: "All Means Come to an End"
19. Signalbleed: "Without Form"
20. Maggi Payne: "Restart"
21. TCHANT: "But Inside This World"
22. Dave Cupp: "Untitled"
23. Die Bene Tleilax: "Cognitive Dissonance"
24. Mike Pursley: "Golohab"
25. Fridur: "dun dot (d.)/eff dot (f.)/end dot (-.)"
26. Brian Schorn: "Last Breath/Last Life/Last Happening/Insectoidal/Psycho Skull"
27. James Bohn: "Ice 9" "
28. Planes Overhead: "Overload/Nijmegen"
29. John Salcido: "Expired"
30. Mike Hallenbeck: "Untitled"
31. Andrew Duke: "Wastewind/Overstretch"
32. RP Collier: "Untitled Combination of Multiple Tracks"
33. David Nix: "Falling of the World"
34. Mobile (Michael Kidd): "Pralaya"
35. Various Artists: "Untitled Combination"
36. Andrew Greene: "Salvation"
37. John Salcido: "Renewal"

[Order]
You can order this CD directly from Independent Opposition.
To learn more about The Last Signal, or to place an order, please [click here].