Werke
[Matt Frantz Presents... The Last Signal]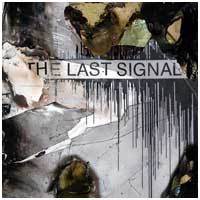 [Covergrafik: Matt Frantz]

erschienen bei Independent Opposition - #MFLS06
2004
37 Tracks
Spielzeit: 55:58
The Last Signal ist eine internationale Zusammenstellung von Stücken, die sich um Interpretationen der Fragestellung drehen, wie sich das Ende der Welt anhören könnte. Die über 35 Stücke stammen von verschiedensten Musikern und Soundbastlern aus Australien, Deutschland, Frankreich, Griechenland, Großbritannien, Italien, Kanada und den Vereinigten Staaten. Dieses einzigartige Experiment unter der Regie des Ausnahmekünstlers Matt Frantz lässt durch die mannigfaltigen konzeptuellen und stilistischen Herangehensweisen der Künstler die Grenzen zwischen Musik und Krach verschwimmen.
"Caution: high volume playback may induce panic in mammals."

[Tracks]
01. Nectarphonic: "Will I" (Last Signal Abrupt End edit)
02. Combination No. 10: "Gutbrain Sound" (Condensed edit)
03. Panayiotis Kokoras: "Red Tail"
04. Ole Peterso: "Opastion Klagavurn Phen Prosno"
05. Tat-Gun: "2 Minutes of Faith"
06. Horrendous: "End Us"
07. Cousin Silas: "Untitled Assemblage of Nine Ambient Soundscapes"
08. Tin R.P.: "Untitled"
09. Giuseppe Rapisarda: "Countdown. Three, Two, One, Zero."
10. Satyr Oz: "Shattered Cradle Playground/The Last Swirlings"
11. Brian Schorn: "Down Arming"
12. Cameron Sears: "Apocalypse Bells"
13. Mystified (Thomas Park): "End of the World"
14. Aaron Butler: "Original Soundtrack to the End of the World" (Dark Audio Dub Mix)
15. brekekekexkoaxkoax: "ma'vet o'lam (Asiyah)"
16. Moon: "Untitled"
17. Matt Frantz: "Oversaturated"
18. Bollwerk 81: "All Means Come to an End"
19. Signalbleed: "Without Form"
20. Maggi Payne: "Restart"
21. TCHANT: "But Inside This World"
22. Dave Cupp: "Untitled"
23. Die Bene Tleilax: "Cognitive Dissonance"
24. Mike Pursley: "Golohab"
25. Fridur: "dun dot (d.)/eff dot (f.)/end dot (-.)"
26. Brian Schorn: "Last Breath/Last Life/Last Happening/Insectoidal/Psycho Skull"
27. James Bohn: "Ice 9" "
28. Planes Overhead: "Overload/Nijmegen"
29. John Salcido: "Expired"
30. Mike Hallenbeck: "Untitled"
31. Andrew Duke: "Wastewind/Overstretch"
32. RP Collier: "Untitled Combination of Multiple Tracks"
33. David Nix: "Falling of the World"
34. Mobile (Michael Kidd): "Pralaya"
35. Various Artists: "Untitled Combination"
36. Andrew Greene: "Salvation"
37. John Salcido: "Renewal"

[Bestellen]
Die CD ist direkt über Independent Opposition zu beziehen; aus Deutschland kann man auch bequem per PayPal bezahlen.
Um von offizieller Seite mehr über The Last Signal zu erfahren, oder um zu bestellen, bitte [hier klicken].